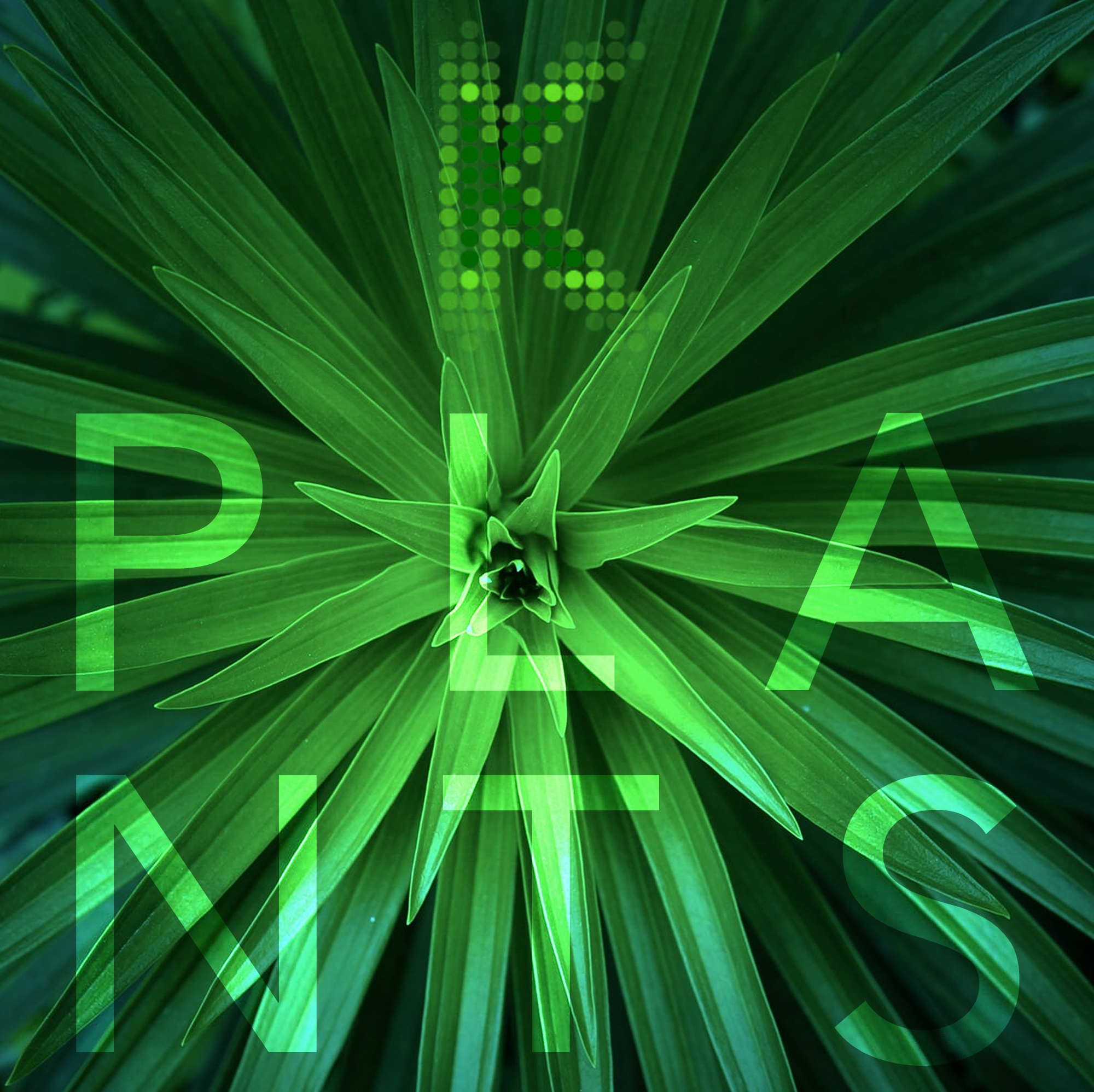 KYMINASI PLANTS
THE NON-CHEMICAL PLANT BIOSTIMULANT: HERE IS BIOTECHNOLOGY APPLIED TO THE PLANT WORLD
An innovative non-chemical biostimulant: not a fertilizer, not a manure, but the very nature that plants are made of, to promote their growth and health.
We believe that every inhabitant on Earth deserves to eat healthy food and live in a healthy environment.
We also believe that the farmers involved in the production of our food deserve to be able to make a living from their work.
Our goal is to help farmers around the world grow healthier, more productive plants.
The international trade of Kyminasi Plants devices for the world of agriculture and professional cultivation has been entrusted exclusively to the company Harvest Harmonics, based in Florida (USA), while in Europe it is managed directly by K Project.
WHAT KIND OF BIOSTIMULANT IS IT?
KYMINASI PLANTS is not a fertilizer, nor a manure, but a new NON CHEMICAL BIOSTIMULANT that improves nutrient uptake and photosynthesis in plants, through irrigation water.
A system to nourish and revitalize the plant world, born with the aim of creating healthier crops, resistant and nutritious for humans.
It is well known by those in the industry that fertilizer is necessary to improve soil performance. Fertilizers, amenders and pesticides are all part of this family. As you already know, fertilizers are used to enrich the soil with the nutrients it has lost due to the continuous use of the same field. While pesticides are used to eliminate pests and other living things that could harm the plant. Remediators, on the other hand, are concerned with restoring the pH of the soil when it is too alkaline or excessively acidic and does not allow for crop survival.
In recent times, the agricultural sector is facing concomitant challenges:
1- increasing productivity to feed the world's growing population, and
2- increasing resource use efficiency while reducing environmental impacts on ecosystems and human health.
Indeed, fertilizers and pesticides play a crucial role in agriculture, representing a powerful tool for growers to increase yield and ensure continuous productivity throughout the seasons, under both optimal and suboptimal conditions.
A promising and environmentally friendly innovation is emerging through the use of natural plant biostimulants, which improve flowering, plant growth, crop productivity and nutrient use efficiency and are able to improve tolerance against a wide range of stressors.
A plant biostimulant is any substance or microorganism applied to plants for the purpose of improving nutritional efficiency, tolerance to abiotic stresses, and/or crop quality traits, regardless of its nutrient content.
Kyminasi Plants does all this in a completely natural way, without adding anything (visible) to the soil.
Since this is an uncommon topic, we encourage you to read below and watch the videos that explain what it's all about.
"
Our tests demonstrated a 70% weight gain in a highly controlled professional environment. We never expected to achieve such an increase, given the very high level already achieved previously, without the use of this technology.
The bell pepper plants showed superior flowering early in the season.
The most impressive results were increased yield, increased shelf life of products by 10-14 days. This is from first-hand experience, and the fact that this technology was helping plants create a self-sustaining ecological system. You would have to see it for yourself to believe it."
HOW KYMINASI PLANTS WORKS
Kyminasi Plants frequencies do not replace nutrients as any fertilizer does, but they are able to improve the ability of plants to absorb and use the nutrients present.
Tests on treated plants show an increase in nitrogen, phosphorus and potassium, as well as showing an increase in fresh weight as well.
See how it works…
Interview with a Washington State farmer who has been using Kyminasi Plants Technology for 3 years on his farm on crops of grapes, eggplant, peppers, tomatoes, squash, with astounding results.
Out-of-normal plant regrowth, increased fruit and vegetable production in size, quantity and quality, and
surprises one after another….
DOCUMENTATION, PAPERS AND THESIS ON KYMINASI PLANTS – CROP BOOSTER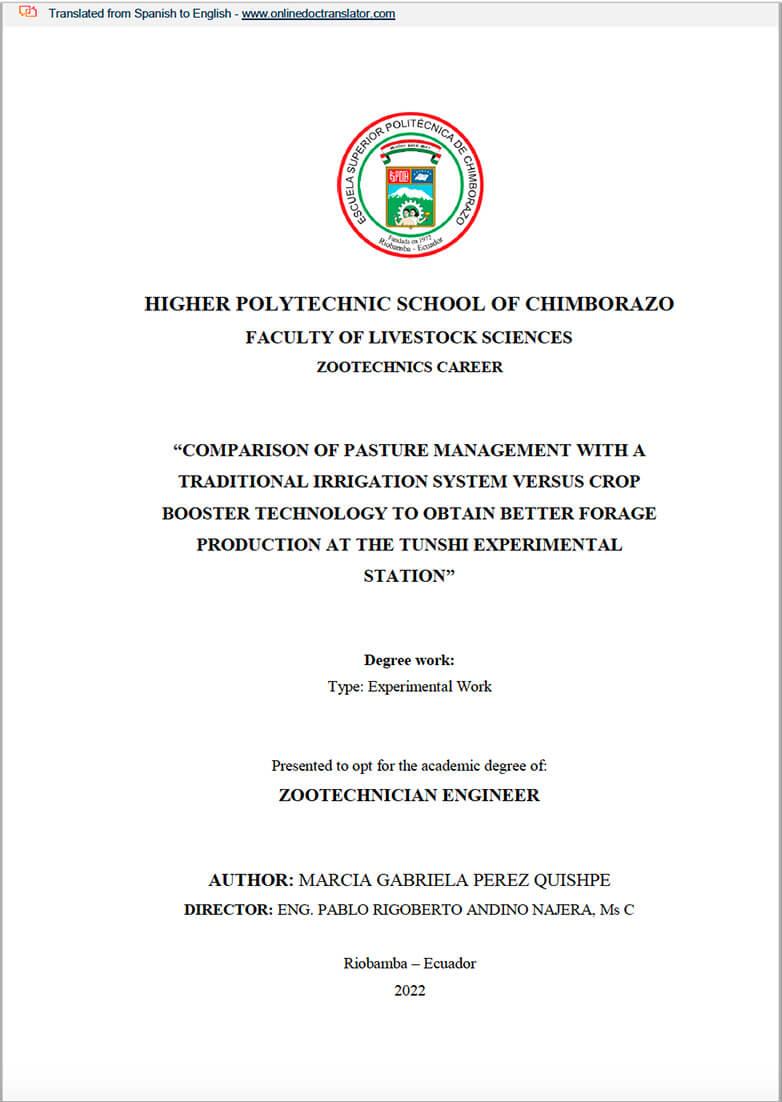 Experimental work on Kyminasi Plants Crop Booster ESPOCH Chimborazo – Ecuador
TRANSLATION IN ENGLISH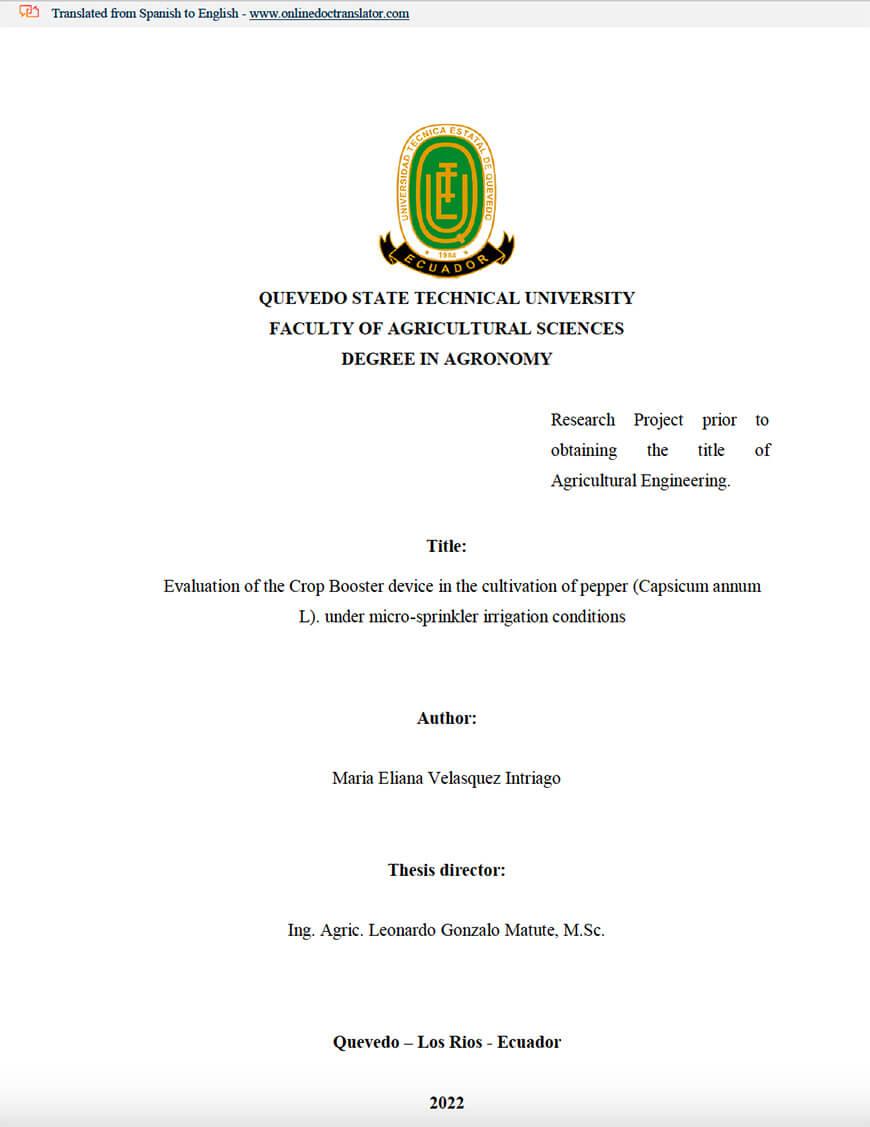 Research Project on Kyminasi Plants Crop Booster at Quevedo State Technical University Faculty of Agricultural Sciences Degree in Agronomy
TRANSLATION IN ENGLISH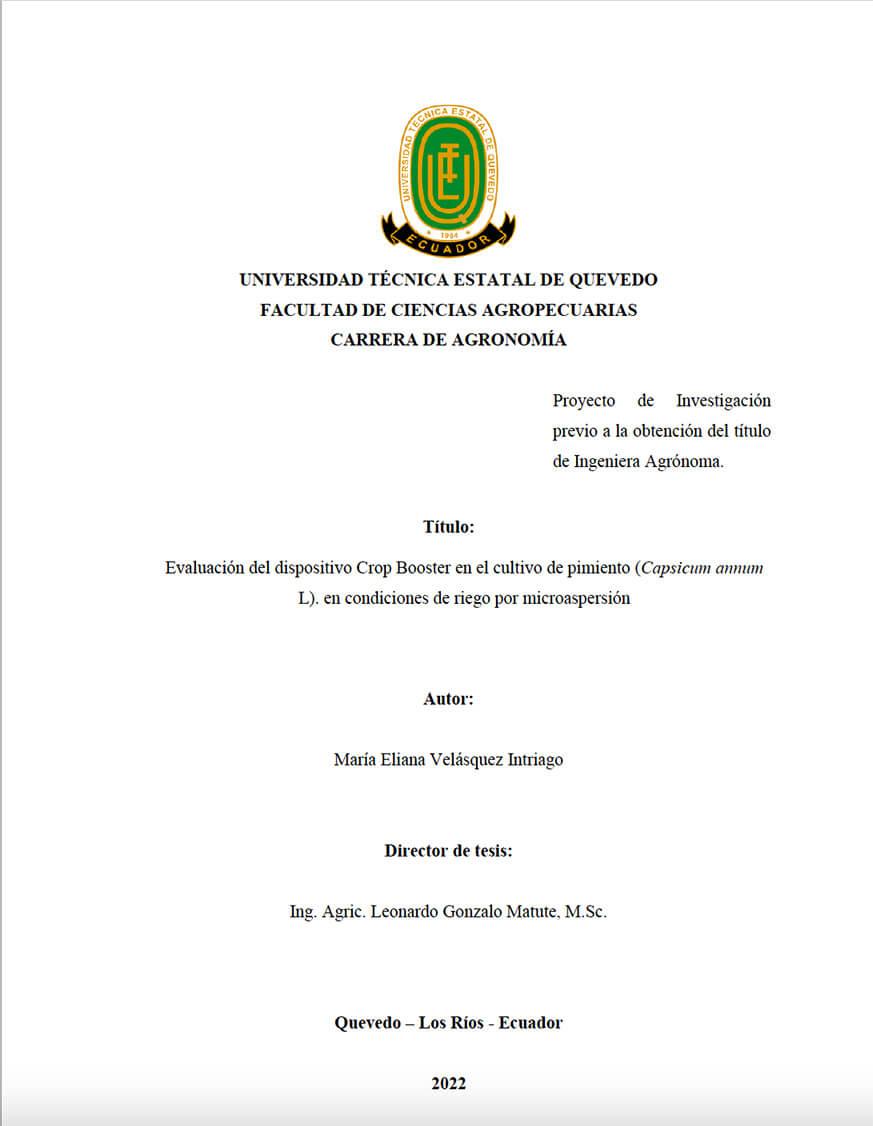 Proyecto de Investigación Universidad Técnica Estatal De Quevedo – Facultad de Ciencias Agropecuarias – Carrera de Agronomía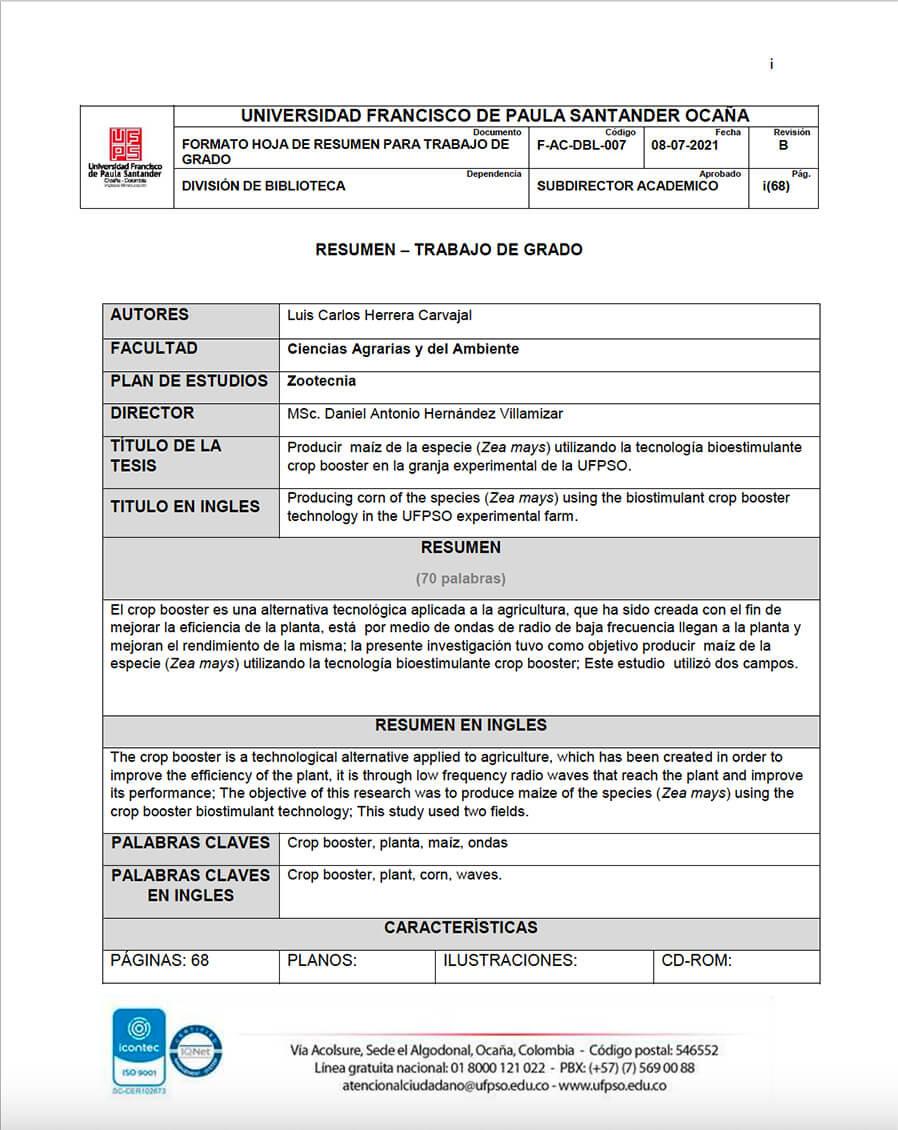 TRABAJO DE GRADO – Facultad de Ciencias agrarias y del ambiente, Universidad Francisco de Paula Santander Ocaña
Plan de estudios Zootecnia
Study conducted by FIRA at the Technological Development Center in Villadiego, Mexico.
FIRA (Fideicomisos Instituidos en Relación con la Agricultura) is an institution dedicated to supporting the development of Mexico's rural, agricultural, forestry and fisheries sectors.
The Villadiego Center for Technological Development (CDT) is an FIRA-dependent unit whose main objective is to generate investment and finance projects and initiatives by offering agribusiness advisory services for the rural sector and the agribusiness industry.
Given the current circumstances of competitiveness and globalization of the economy, the Villadiego CDT, with an integral approach of greater vision, has the functions of designing, implementing and disseminating methodologies for the integration of value networks, promoting the development of the market for agribusiness consulting services, with a focus on Organic Farming and Greenhouse Vegetable Production.
Estudio realizado por FIRA en el Centro de Desarrollo Tecnológico de Villadiego (México).
FIRA (Fideicomisos Instituidos en Relación con la Agricultura) es una institución dedicada a apoyar el desarrollo de los sectores rural, agropecuario, forestal y pesquero de México.
El Centro de Desarrollo Tecnológico (CDT) de Villadiego es una unidad dependiente de FIRA, cuyo objetivo principal es generar inversión y financiar proyectos e iniciativas, ofreciendo servicios de consultoría agroindustrial para el sector rural y la industria agroalimentaria.
Dadas las actuales circunstancias de competitividad y globalización de la economía, el CDT de Villadiego, con un enfoque integral de mayor visión, tiene las funciones de diseñar, implementar y difundir metodologías para la integración de redes de valor, promoviendo el desarrollo del mercado de servicios de consultoría agroalimentaria, con enfoque en Agricultura Orgánica y Producción de Hortalizas en Invernadero.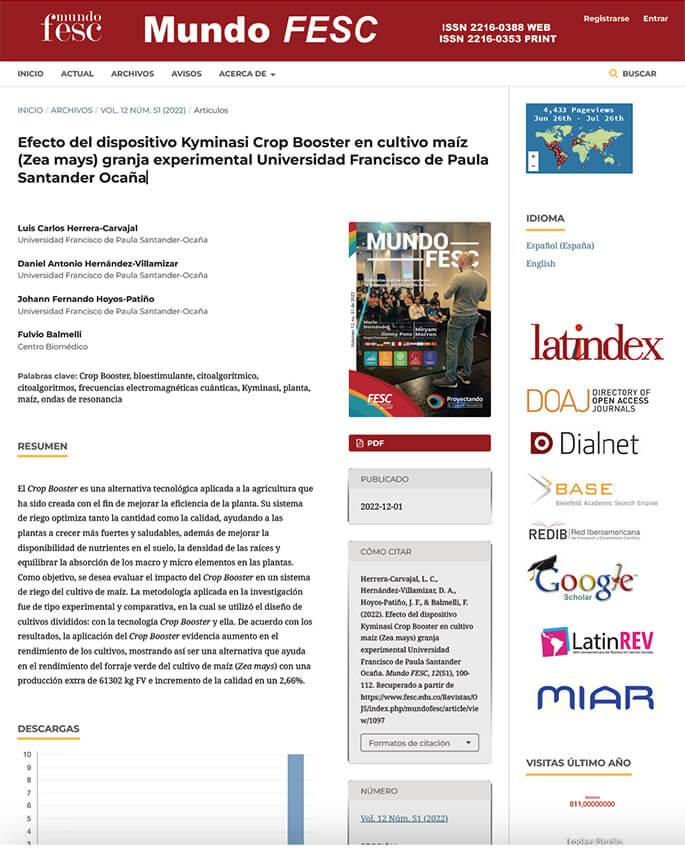 AUTHORS
Professor Daniel Antonio Hernández Villamizar,
Master's degree in animal production
Francisco de Paula Santander University Faculty of Agricultural and Environmental Sciences (Zootechnics -Ocaña)
Johann Fernando Hoyos-Patiño,
Master in Sustainable Production Systems – Francisco de Paula Santander University
Effect of the Kyminasi Crop Booster device on corn (Zea mays) experimental farm Universidad Francisco de Paula Santander Ocaña" Scientific Colombian Magazine Mundo Fesc, vol. 12, no. s1 pp. 100-112, 2022
The Francisco de Paula Santander University (UFPS) is a Colombian public university based in the city of Cúcuta, subject to inspection and surveillance through Law 1740 of 2014 and Law 30 of 1992 of the Colombian Ministry of Education.
It was founded on July 5, 1962 and is the most important and representative university of Cúcuta and Norte de Santander, with a high level of development and forged for the benefit of the formation of the North Santander and Colombian people, due to its tradition, prestige, quality and selectivity. It is one of the flagship public universities of eastern Colombia and is linked to the history and academic production of Latin America. It has offices in Cúcuta, Ocaña, Los Patios, Chinácota and Tibú.
It is made up of 37 academic units divided into 6 faculties, which offer nearly 35 undergraduate programs, 10 specializations, 4 master's degrees, and 1 doctorate. It has 3 sub-rectories and 4 administrative units, its highest governing body is the Higher University Council.
It is a decentralized entity of the Norte de Santander department, organized as an autonomous university entity with a special regime, linked to the Ministry of National Education in what has to do with policies and planning of the educational sector and in relation to the National System of Science and Technology.
The University was the top 10 best HEIs in the country. The U-Sapiens Ranking measures and classifies universities according to their indicators of social appropriation of knowledge, thus listing the best HEIs in the country, where the Francisco de Paula Santander University has stood out.
This ranking has been published every two years since 2016 and in the last report presented during the first half of 2022, the Francisco de Paula Santander University obtained eighth place, ranking in the top 10 of the best universities in the country for knowledge appropriation and thus ranking among universities such as the Technological University of Pereira and the Industrial University of Santander, which have obtained great recognition at the national level.
KYMINASI PLANTS IN THE WORLD
KYMINASI PLANTS FOR FARMERS AND NURSERYMEN
Kyminasi Plants represents the future of cultivation. It was created to provide a natural and effective tool for farmers to increase the quantity of their crop and have strong, healthy plants.
Nursery growers can use Kyminasi Plants for their plants, making them stronger and healthier, better looking for sale, longer lasting in the nursery itself, with faster growth and richer blooms.
ARE YOU A FARMER OR A NURSERYMAN?
Contact us to find the best solution for you.
KYMINASI PLANTS FOR RETAIL
For retail resale of Kyminasi Plants devices at nurseries and centers that offer gardening and home garden products, it is possible to offer this alternative or supplement to the usual fertilization methods to anyone wishing to grow organically.
DO YOU WORK IN THE GARDENING PRODUCTS TRADE?
Contact us to find the best solution for you.
KYMINASI PLANTS FOR YOUR GARDEN
Anyone who loves a lush garden, is dedicated to growing a vegetable garden, or is passionate about their flowers, with the help of the Kyminasi Plants device will not need fertilizers and will see results they have never seen before. Plants will naturally acquire the strength they need to be exactly as they should be.
DO YOU HAVE A GARDEN, VEGETABLE GARDEN OR TERRACE?
It will be possible to purchase Kyminasi Plants devices directly online on the Kyminasi-Shop soon. Request information or register to be informed as soon as the online purchase is available.
Kyminasi technology is loaded onto a device (a metal diskette), which is attached upstream of the irrigation system. The frequencies are transferred through the water to the soil and plants.
Principle 1: Resonant frequencies can be used to alter living objects and tissues.  Infrared (IR) spectroscopy is a method used to identify unknown substances by taking an image of the vibrational patterns present in that substance. This technology works because the various vibrations in a functional group of atoms (e.g. OH) absorb different frequencies that can then be detected on a screen.
Principle 2: An electromagnetic frequency can be introduced into a substance to provide a picture of the various molecular vibrations of the parts that make up that substance.
Principle 3: Natural frequencies for plant functions can be measured and then transmitted through water to improve soil and plant health.
Summary: Rather than just looking at molecular vibrations (IR spectroscopy) or adding them destructively (shattering glass), Kyminasi Plants' frequencies are finely tuned to improve specific plant functions by positively influencing the vibratory movement of electrons in living tissue.
Date: 18 dic 2019
Place: Guillermo Caceres Paijan, Perù
Details:
Natural Kyminasi Plant Booster (KPB) Technology increases germination rate and flowering.​ Kyminasi Plant Booster was installed in a bell pepper field in December 2019. The field with Kyminasi Plant Booster and control field are comparable in size; about 10 acres each. The fields are adjacent to each other and were planted at the same time; approximately 1 month before the Kyminasi Plant Booster was installed.
Results:
After just 16 days, the Kyminasi Plant Booster field germinated faster and more uniformly than the control field. The control field has many gaps where germination failed or was very slow.
After only 16 days using Kyminasi Plant Booster, crops are flowering early, with more buds per plant than control. 30% more blooms than normal for that field (12 per plant average vs 8, which is standard).
Plants show more vigor and the leaves and stems are darker green and healthier than control plants.